July 28th 2018, Woodchuck Music Fest 5, Idaho Springs.
Special Guest With Tributes By:
Peak2Peak – Tribute to "The Grateful Dead" – 8:00pm
Thin Air – Tribute to "Widespread Panic" – 5:30pm
Trouble In The Heartland – Tribute to "Bruce Springsteen" – 3:00pm
The Kind Mountain Band – "Mountain Grass" – 1:00pm
Billy and the Bobbers – "High on Grass" 🙂 Not! – 12:15
Wayne Evens – "Opener" – 11:45am
"Guitar Dan" Fountain – "Tweener" 4:30 & 7:15pm
Music Fun, In The Sun! and Moon! Camping at 9,500 Feet!! Heck Yeah!! RV, and Campers Welcome!! Must Come EARLY! Like the night before! Family Friendly!!! Dog Friendly!!
Bring your axe for the campfire open jam, with Guitar Dan, and The Kind Band!!
BYO Everything…. Food, Sunblock, CHAIRS, Blankets, Tents, Camping Gear, etc…..Booze!
We will provide lots of camping space, great music, food vendor's, and rest rooms.
Food venders:
Smokey J's BBQ, and Tarrango Tacos.
Passes will be sold at the event entrance!
$20.00 Adult/ Children 12 and under are free!
Camping is included!
THIS IS A CASH ONLY EVENT
Venders can take credit cards!
*For advance sale of passes, please contact John Liggett, or Dustin Fountain directly through Facebook "Messenger". Arrangement can be made!
A "Fountain Productions"
Check the Facebook link for more info https://www.facebook.com/events/1634008270010053/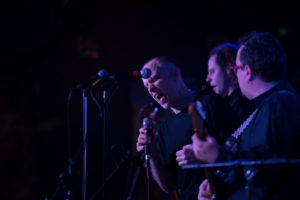 If you have an event that needs Trouble in the Heartland, check out our Booking page.
More coming soon
For booking information, please contact us through the Booking page.